BBB Accredited and A+ Rated Miami Property Manager. 99% Success Rate in Finding Great Tenants. 
Bahia Property Management Miami
Are you tired of late payments, evictions, and your property manager not returning your call?
Investors and homeowners love how Bahia works.  Instead of hiring one distracted agent, you'll have our entire team taking care of your properties.
Miami Property Management Rentals
Find Tenants You'll Love For Your Miami Properties
Tired of dealing with Wrong Tenants?
With Bahia, you won't have to.
Our strict screening process ensures that only qualified tenants with clean background get admitted into your properties.
Our Zero Tolerance rent collection policy ensures all rents will be paid on time.
Bahia Property Management Miami – Why Owners Choose Us
Get a full management team, instead of an overwhelmed Realtor or a property manager.
Most "property managers" are Realtors that happen to manage properties.  Realtor's primary job is sales – not management.
Compare that to a dedicated property management team whose sole focus is on managing your properties efficiently.
With Bahia, you can expect:
Always ontime rent payment (as opposed to your property manager holding your funds for 30+ days).
Excellent tenant selection (unlike the Realtors that only look at an automated credit report).
Transparent accounting (as opposed to never knowing what happened to your funds).
No upcharges or extra fees added to invoices.
Responsive communication (as opposed to never hearing back from your agent).
Had Enough of Being Your Own Property Manager?
Being a landlord takes time and energy.  You play detective, handyman, accountant and even counselor from time to time.
It drains emotional energy to have to fight with tenants about missed rent payment, or their demand for repairs and upgrades.
Instead of ending up working for your tenants, you can take your life back by delegating the management to a reliable & dedicated team.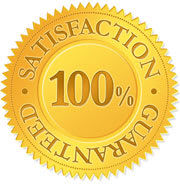 Our Guarantee
We offer a 120 Day Satisfaction Guarantee.  If you decide to cancel our services within the 120 days, we'll refund all management fees (excluding any lease fees, if we placed a tenant).
Miami Property Management Companies – Trusted By Owners in 23+ Countries