Miami Property Management Solutions
Bahia Property Management is BBB A+ Rated, Accredited Miami Property Management Firm.  We're trusted by over 400 property owners to manage their rental properties.
Leasing Service
Find Qualified Tenants for Your Rentals
We'll find qualified tenants to prevent future evictions.  Bahia's Leasing Service includes:
Advertising Your Property:
We don't stop at placing a "For Rent" sign in the yard. We list your property on MLS, so thousands of realtors will see your ad. We also list in major rental websites such as Zillow and Trulia (and many more).  Our advertising attracts a large number of potential renters to choose from.
Tenant Background Screening: 
Our strict tenant selection process has a success rate of 99%.  We check credit report but go much further.  We personally verify current employment, income and past landlord history.  We also check local and nationwide databases of criminal & sexual offenders.
Draw Up Lease Agreement:
We use leases crafted by an attorney specializing in Florida Tenant Landlord Law.  This provides extra protection to the property owner.
Full Property Management
Lease & Manage Homes, Condos & Apartments
Stop worrying about your rental property at night!  Let Bahia manage your property so you have time for more important things.
Leasing Service:
(See Leasing Service.)
Rent Collection:
Tired of hearing tenants say "Can I pay my rent next week"?  Thanks to our Zero Tolerance Rent Collection policy, 99% of Bahia tenants pay on time.
Property Maintenance:
No more late night phone call from panicked tenants about a broken toilet.  Bahia's 24/7 Emergency Maintenance Line ensures your property will be taken care of.
Payments & Recordkeeping:
View all financial data in one place.  Bahia's Owner Portal will show you monthly and annual statements along with all receipts.  Tax filing becomes easy!
Full Property Management Details
We take care of all details, so you can relax.  All of these services are included when you choose Bahia to manage your property:
Bahia Property Management is Rated A+ & Accredited By Better Business Bureau
Why do over 400 owners trust Bahia Property Management to professionally manage their rental properties?  The reason is simple: We help lessen their stress of rental property ownership.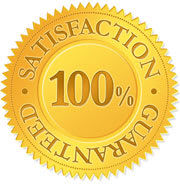 Money Back Guarantee for 120 days
At Bahia your satisfaction comes first.  That's the reason we offer a Satisfaction Guarantee period to 120 days.  Should you decide to cancel our services within that period, you'll receive back all the management fees (no including any lease fees from tenant placement.)
Contact Bahia Property Management
Fill out the form below for a free consultation regarding your Miami rental properties.