Switching to Bahia Property Management
5 Ways You'll Experience the Bahia Difference
Many Miami Homeowners decide to switch to Bahia Property Management after being dissatisfied with their property manager.  Here are Top 5 Differences you'll experience when you choose Bahia.
#1. No More Delayed or Missed Rent Payment
Some property managers delay or miss paying the owners due to ineffective rent collection practices.  We believe you shouldn't have to wait weeks to see your rent deposited into your bank account.  Our clients see the rent deposited into their chosen bank account in the first 7-10 days of the month.
Bahia's Promise #1: Get Paid On Time Every Month.
We pay our owners by 7th – 10th of each month. Like clockwork, you'll see the funds directly deposited into your account on time. There is a lot of behind-the-scenes work we do to make it happen (such as Our Zero Tolerance Rent Collection process). Bottom line: We collect rent and pay you on time.
#2. No More Unfair Billing Practices 
Many property management companies charge landlords extra for each repair.  This is known as "upcharge," or padding the bill. Other managers receive a kickback from the vendors they assigned the work to.  We believe you shouldn't have to pay extra for repairs to your properties.
Bahia's Promise #2: No Hidden Fees, Kickbacks or Upcharges.
We do not financially benefit from choosing one vendor over another. Whatever savings we create will benefit you directly. There are no hidden fees, padded bills or kickback agreements with any vendors. (The only thing we require is that the vendors be licensed, bonded and insured for your protection.)
#3. No More Accounting Mysteries
Some landlords never receive monthly statements from their property managers.  No receipts for expenses, either.  They had no idea where the money was going, and why they were not getting paid in full.   We believe you should always have clarity as to where the money is going and why.
Bahia's Promise #3: Transparent Accounting
In addition to the monthly and annual financial statements, we provide you with an online Owner Portal. In your Owner Portal, all transactions regarding your properties get updated in real time with relevant invoices and receipts. You will see with 100% clarity where the money is going at all times.
#4. No More Underperforming Assets
Even though the market rent has been rising each year, many landlords never benefit from it.  It's because the property managers kept the same rent year after year, allowing tenants to stay in the unit for years at a discount.  Since rents have been rising 4-5% each year in some markets, this can add up to thousands of dollars of missed profit.
We believe you should benefit from the increase in the market price.   We perform a comparative market analysis (CMS) for our client's property each time when we renew the lease.
Bahia's Promise #4: Annual Rent Analysis to Raise Rent When Needed
Each year, we check to make sure your rent is comparable with similar properties in the area. In a busy rental market with high demand, the rent should go up every year.  Over the course of several years, this can add thousands of dollars more to your bank account.
#5. No More Absentee Property Manager
Some owners receive no communication from their property manager.  No response to emails or voicemails.  This can be devastating for a landlord who lives far from the rental property.  What happens if there are urgent issues and you cannot get hold of your property manager?
We believe you should be able to easily get hold of your property manager.  This is why we offer our clients various ways to contact us.  Our team's response time is never more than 1 business day, and is usually much more immediate.
Bahia's Promise #5: Our Team is Here For You.
Our property management team is available on the phone, email or your Owner Portal. You can call or email us with questions any time. We respond to emails in 1 business day. Because we have a full team, there will always be someone that can assist you regarding your property.
Many owners find the experience working with Bahia Property Management to be refreshingly different. Contact us via the form below. Your property deserves the best management service available!
Bahia Property Management is Rated A+ & Accredited By Better Business Bureau
Why do over 400 owners trust Bahia Property Management to professionally manage their rental properties?  The reason is simple: We help lessen their stress of rental property ownership.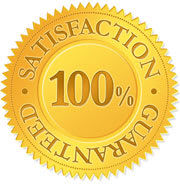 Money Back Guarantee for 120 days
At Bahia your satisfaction comes first.  That's the reason we offer a Satisfaction Guarantee period to 120 days.  Should you decide to cancel our services within that period, you'll receive back all the management fees (no including any lease fees from tenant placement.)
Contact Bahia Property Management
Schedule a Free Assessment for Your Rental Property Today!